Vinyls & Vino: Trivia Series | January 27th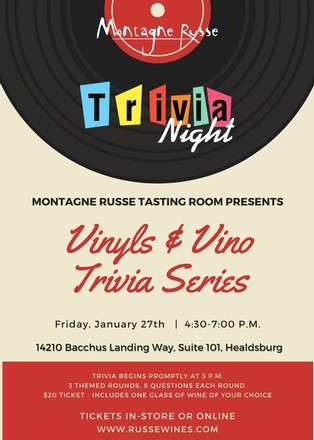 -------------------------------
Montagne Russe presents its its Vinyls & Vino Trivia Series. Join us at our tasting room at 4:30 to get settled with your team over some wine, and then trivia starts promptly at 5pm. There will be three rounds, eight questions in each round. A strong focus on music and wine! Teams of up to six people. Prizes will be awarded to the winning team!

Kevin will be your host for the evening, with Whitney as back up! Guaranteed to be a good time!

Vinyls will be spinning between each question.

Tickets are $20 each, which includes one glass of wine upon arrival.
CLUB MEMBERS: $10 (Log In for discount)