Roberts Road
Vineyard Name: Roberts Road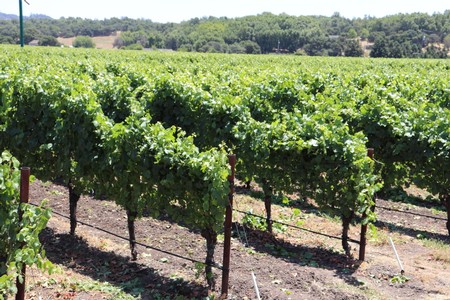 Location: 10 miles north of Petaluma
Owner: Sangiacomo Family
Varietals: Pinot Noir and Chardonnay
Elevation: 100-150 ft</p>
Soil:Silty Gravel
Why we like the Sangiacomos:
I had the pleasure of meeting the family at a comparative tasting of Pinots from their various different ranches. Mike Sangiacomo sat next to me personally chatting to me about the barrel sample I had brought. They treated me like we were buying 40 tons of fruit instead of two.
Why we like the vineyard:
Built on the old bed of a creek, the soil drains excessively well. This is a vineyard that produces light and expressive wines. The vineyard crew will harvest one ton or one row for us so we can ripen both of our clones separately. They pull only the finest clusters off the vine leaving anything that doesn't make the cut. They clearly have learned amazing farming over the last 90 years!
Animal Friends:
Just an occasional buck that slips through the gate if you leave it open.
Montagne Russe Wines Produced:
2017 Roberts Road Chardonnay
2017 Roberts Road Pinot Noir - 93 Points, James Suckling
2018 Roberts Road Pinot Noir - 91 Points, Wine Enthusiast