Alder Springs
Vineyard Name: Alder Springs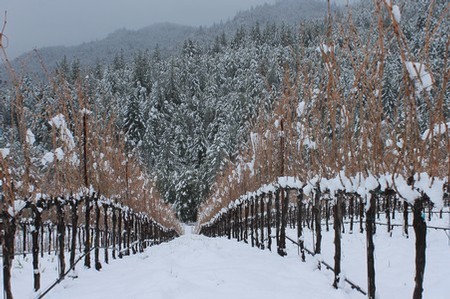 Location:
26 miles North and 27 miles east of Mendocino
Owner: Stu Bewley
Varietals:
Pinot Noir, Syrah, Viognier, Grenach, Mourvedre, Counoise, Chardonnay, Grenache Blanc, and many more
Elevation: 1700-2700 ft
Soil: Too many to count
Why we like Stu:
Stu was the first to pioneer trials of different clones and root stocks up in Mendocino. Since 1993, he has tirelessly found the combinations of varietals and soils that produce the most glorious results. The Alder team treats Montagne Russe, a two ton client, like one of the big boys with personal trips up the side of the mountain.
Why we like the vineyard:
140 acres of diversity. Simple as that. Being one of the most northern vineyards in the North Coast, and at one of the highest elevated the hang times are long producing superior flavors. Thankfully Stu has a couple of land cruisers, as it's an all day hike to the top of the hill.
Animal Friends:
Coyotes, deer, bob cats, and bear. Yes bears. They ate our Viognier last year.
Montagne Russe Wines Produced:
2016 Alder Springs Syrah - 95 Points, James Suckling
2017 Alder Springs Syrah - 91 Points, James Suckling