UPCOMING EVENTS
March 2023
Vinyls & Vino Trivia Series | March 31st
5:00 PM to 7:00 PM
Fri, Mar 31, 2023
Venue:
Montagne Russe Tasting Room
-----------------------------------
Montagne Russe presents its second night of Vinyls & Vino Trivia Series. Join us at our tasting room at 5 pm to get settled with your team over some wine, and then trivia starts promptly at 5:30 pm. There will be three rounds, ten questions in each round. Teams of up to six people. Prizes will be awarded to the winning team!
Trivia Theme: ALL THINGS 80's!

Kevin will be your host for the evening, with Whitney as back up!
Vinyls will be spinning between each question.

Tickets are $20 each, which includes one glass of wine upon arrival. $10 for Club Members.
Wood-fired pizzas available for purchase from the the Bacchus Landing Market until 6pm.
Purchase Tickets HERE.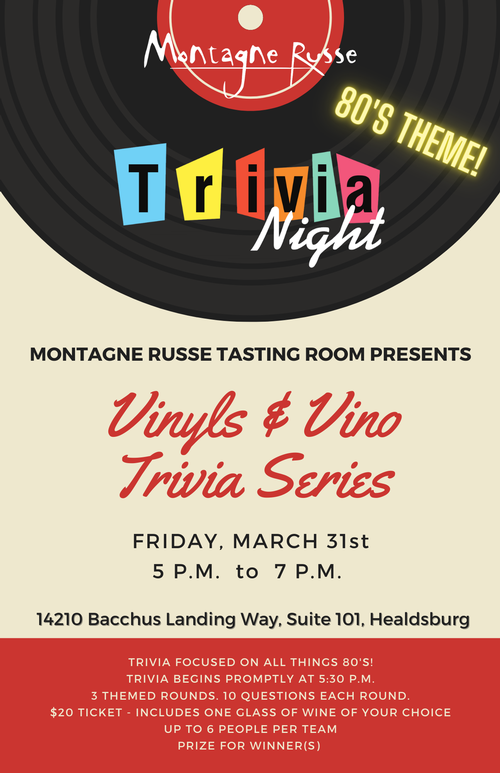 April 2023
Spring 2023 Spring Release Party
11:00 AM to 5:00 PM
Sun, Apr 2, 2023
Venue:
14210 Bacchus Landing Way, Suite 101
----------------------------
Join us at our annual Spring event that celebrates the release of the newest wines.

Open to all. Tickets are $35 per person.
As always, tickets include [plenty of] wine and food! Food TBD.

Club members, this is the event to pick up your Spring Club wines, and enjoy a day full of wine tasting and food! 1-4 complimentary tickets based on your club level.

Giant Dipper Club: 1 Complimentary Ticket
Matterhorn Club: 2 Tickets
Goliath Club: 3 Tickets
Founders: 4 Tickets

Club members, RSVP to info@russewines.com
Non-Club >>> Purchase Tickets HERE.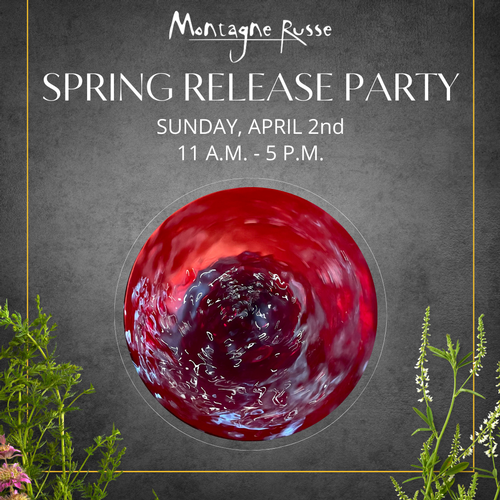 Spring Wine Club Pickup Party
11:00 AM to 5:00 PM
Sun, Apr 2, 2023
Venue:
14210 Bacchus Landing Way, Suite 101
----------------------------
Save the Date! ... Pick up your Spring Club Wines and celebrate the new releases with us at the tasting room!
Plus, Club Details about the Spring Shipment will be released on March 10th.
Vinyasa & Vino
10:00 AM to 1:00 PM
Sat, Apr 15, 2023
Venue:
14210 Bacchus Landing Way, Suite 101
Join Stacey Rosenberg and Sonoma County Yoga Excursions at the hottest new wine destination in Healdsburg - Bacchus Landing. It's home to eight wineries, and we've partnered with one in particular - Montagne Russe - to host this special event.
Start the day with a 75-minute gentle flowing asana practice on their tasting room patio. Then dive into learning about and tasting the wines at Montagne Russe. You can expect to taste a Rosé, a Chardonnay, two Pinot Noirs, and a Syrah. The pizzas are wood-fired right in the courtyard and will come out hot and fresh for you to enjoy while experiencing the wines.
INCLUDES:
75-minute asana practice
Pizza and salad
Tasting of five wines
PURCHASE TICKETS HERE
Montagne Russe Wine Club Members disounted pricing: $110