UPCOMING EVENTS
September 2023
Tiburon Wine Festival
1:00 PM to 4:00 PM
Sat, Sep 30, 2023
Venue:
Point Tiburon Plaza 1701 Tiburon Boulevard Tiburon, CA 94920
-----------------------
55 + WINERIES (Including Montagne Russe!). 10 RESTAURANTS. 1 EXTRAORDINARY EVENT.
We are excited to welcome you back to Tiburon this fall. There's a reason the Tiburon Wine Festival is one of the Bay Area's most popular wine events. Extraordinary Wine, Food & Live Music all on the bay!
The Wines
Featuring wines from both established and small production wineries, the Tiburon Wine Festival provides a rare opportunity to experience new wines and savor old favorites - from Napa, Sonoma and as far afield as Italy and Hungary.
The Food
Great local restaurants and food purveyors. Sam's Anchor Cafe, The Bungalow Kitchen by Michael Mina, The Caprice, Woodlands Market, Malibu Farm, Luna Blu, Salt & Pepper, Petite Left Bank and Servino Ristorante to name a few.
Purchase Tickets HERE.
October 2023
Fall Release Party
11:00 AM to 5:00 PM
Sun, Oct 8, 2023
Venue:
14210 Bacchus Landing Way, Suite 101
----------------------
Join us and celebrate the release of our newest wines! This is the event for club members to be spoiled, and to pick up their club wines... but it's also the chance for non-Club wine enthusiasts to experience Montagne Russe as well.
Kevin will be making his famous paella (vegetarian option will be made as well) and Frog Hollow gourmet icecream sandwiches to finish. And as always, plenty of wine!
10:30 A.M. Paella Cooking Seminar, led by Kevin himself!
Additional $10 to join. Complimentary for Club Members.
Kevin will lead you through making a VIP Paella w/ lobster and more!
Club Members:
Giant Dipper Club - 1 Complimentary Ticket
Matterhorn Club - 2 Complimentary Tickets
Goliath Club - 3 Complimentary Tickets
Founders Members - 4 Complimentary Tickets
General $35 Ticket - arrive anytime after 11 A.M.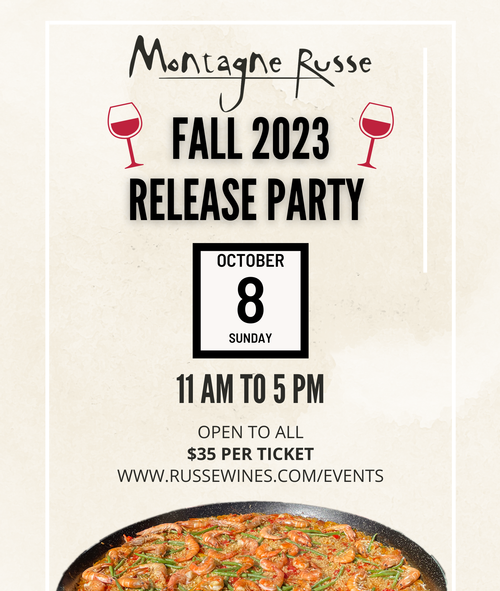 Healdsburg Crush VIP Pouring at Bacchus Landing
4:00 PM to 6:00 PM
Fri, Oct 13, 2023
Venue:
Bacchus Landing, 14210 Bacchus Landing Way
----------------------------------------
Experience an evening of refined elegance at Bacchus Landing with the esteemed winemakers of Montagne Russe , Convene by Dan Kosta , Aldina Vineyards and Dot Wine !

Delight in an intimate tasting of exclusive library and limited-production wines, accompanied by exquisite pairings. Limited to just 40 attendees, relish one-on-one interactions with the winemakers amidst a backdrop of sophistication and flavor.

Friday, October 13 | 4-6pm | $75 per person*

*Note: This price does not include admission to Healdsburg Crush.
Tickets to Sunday's event must be purchased separately.

Elevate your evening with us; reserve your spot at one of our 5 VIP Events now:
www.healdsburgcrush.com
Healdsburg Crush
12:00 PM to 4:00 PM
Sun, Oct 15, 2023
Venue:
Healdsburg Plaza
-------------------------------------------------
Join us on October 15th from 12-4pm on the picturesque Healdsburg Plaza for a rare opportunity to celebrate crush with 60 of California's best Pinot Noir, Chardonnay, and sparkling wine producers! All proceeds will go to support the amazing programs at @BGCSonomaMarin. Tickets can be purchased at healdsburgcrush.com, use promo code RUSSE23 to get $15 off General Admission tickets.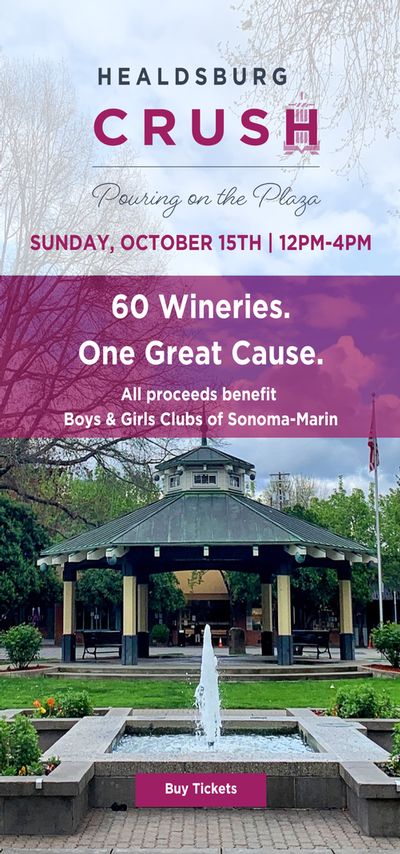 2023 Harvest Celebration
6:00 PM to 9:30 PM
Sat, Oct 21, 2023
Venue:
Bacchus Landing | 14210 Bacchus Landing Way
---------------------------
Owners & Founders Members - please mark your calendars for our Harvest Celebration. An intimate coursed dinner event paired with our best wines. Details TBC.