Black Knight Vineyard
Vineyard Name: Black Knight Vineyard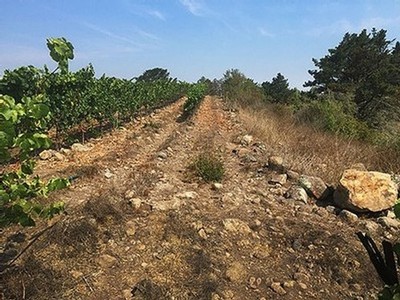 Location: 9 miles South and East of Santa Rosa
Owner: Mitch Black
Varietals: Pinot Noir, Chardonnay, Gamay
Elevation: 800ft – 900 ft
Soil: Too many to count. Volcanic ash, loam, granite, lime stone
Why we like Mitch:
Mitch and his family farm Black Knight row by row. There are half a dozen micro climates on the 100 acre property, and each requires special care and attention. Mitch puts his heart and soul into the property and knows each stone and vine. Vineyards and wine start with the people who tend the land. No more true than for BKV.
Why we like the vineyard:
Sunny on one part of the vineyard, cloudy on another. White volcanic ash under the Pommard clone, gravely loam for the chard, and volcanic rock for the Dragon's Back. BKV is perhaps the most diverse vineyard in all of Sonoma. The Pinots are delicate and floral and the Chardonnays race with acidity and minerality.
Animal Friends:
Commander Ryker and Eowyn are two rescue labs that run free on the property. Ryker being silver and Eowyn gold are the name sake for our Silver and Gold Chardonnay.
Montagne Russe Wines Produced:
2015 Silver & Gold Chardonnay - 91 Points, Robert Parker
2016 Silver & Gold Chardonnay - 93 Points, James Suckling
2017 Silver & Gold Chardonnay

2015 Dragon's Back Pinot Noir - 94 Points, Robert Parker
2016 Dragon's Back Pinot Noir - 93 Points, Robert Parker; 94 Points, James Suckling
2017 Dragon's Back Pinot Noir