Rose Release Party - February 22nd @ FARMSHOP
3-6 p.m.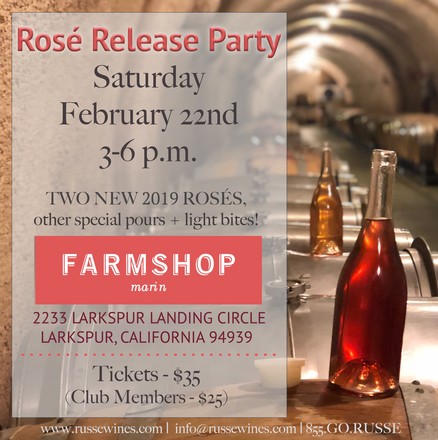 3:00 PM to 6:00 PM Sat, Feb 22, 2020
Venue: Farmshop Marin - 2233 LARKSPUR LANDING, LARKSPUR, CA 94939
_ _ _ _ _
Join us in Larkspur (Marin County) for the release of our 2019 Rosés - that's right! TWO OF THEM.
We've rented out a fabulous event space in Farmshop Marin; light bites provided by their kitchen. Come taste, compare & contrast, mix & mingle, and hang out with the Russe team. Additional wines will be poured ;)
Tickets are $35 each. Club Member pricing is $25. Log in to your account and use code: InTheClub25 at checkout.
Recommendations:
If you're coming from SF, the San Francisco-Larkspur ferry drops you right across from Farmshop.
If you're coming from the North, the Smart Train can drop you off steps away from Farmshop, at the Larkspur Station.
After our event, stay for dinner at Farmshop (a highly recommended dining experience).