Van der Kamp
Vineyard Name: Van der Kamp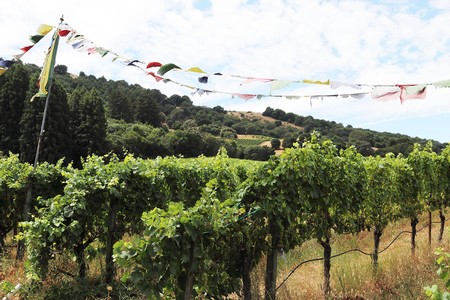 Location: North-facing aspect of Sonoma Mountain
Owner: Martin and son, Ulysses Van der Kamp
Varietals: Pinot Noir, Pinot Munier
Elevation: 1400 ft.
Soil: Speckled loam with volcanic material, decomposed river bed
Why we like the Van der Kamps:
Kevin: "I was hounding them every year for three years for fruit. Finally, this year (2019), they interviewed me... we were sitting on their vineyard by a pond being eaten by mosquitos while we talked about Pinot-making philosophy. At the end of the conversation, we shook hands on three tons.... I did not have Zika or Malaria. So I guess I have that going for me."
Why we like the vineyard:
It's perhaps the most gorgeous vineyard location in all of Sonoma County.
Animal Friends:
There are two vineyard dogs - Milo & Pono; and there are rattlesnakes... we had a spook on a visit, but it was just a gopher snake.
Montagne Russe Wines Produced: