Vinyls & Vino Trivia Night - June 30th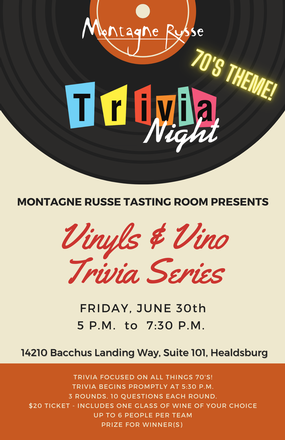 -----------------------------------
Montagne Russe presents its second night of Vinyls & Vino Trivia Series. Join us at our tasting room at 5 pm to get settled with your team over some wine, and then trivia starts promptly at 5:30 pm. There will be three rounds, ten questions in each round. Teams of up to six people. A prize will be awarded to the winning team!
Theme for the night: ALL THINGS 70'S
Kevin will be your host for the evening, with Whitney as back up! Guaranteed to be a good time!

Vinyls will be spinning between each question.

Tickets are $20 each, which includes one glass of wine upon arrival. $10 for Club Members.
Wood-fired pizzas available for purchase from the Bacchus Landing Market until 6pm.