UPCOMING EVENTS
June 2023
National Rose Day
12:00 PM to 4:00 PM
Sat, Jun 10, 2023
Venue:
Bacchus Landing | 14210 Bacchus Landing Way
----------------------------
Join us for Bacchus Landing's National Rosé Day Celebration. Come in your garden party attire and party along with DJ Fabian Vera under the sun. Tickets include a Rosé tasting from each of the wineries at Bacchus Landing. Paella by Mateo Granados will be available for purchase.

Wristband includes 7 tabs,
1 tab gets you a 1oz pour of the following wines;

Suite 100 | The Setting Wines - 2022 Sauvignon Blanc, Sonoma County
Suite 101 | Montage Russe - 2021 Rosé of Pinot, Sonoma Coast
Suite 200 | Smith Story Wine - 2021 Rosé Wine, Mendocino County
Suite 201 | The Co-Op
Aldina Vineyards - 2022 Rosé of Cabernet, Sonoma County
Dot Wine - 2022 Rosé of Pinot, Russian River Valley
Westside Sparkling - NV Rosé Brut, North Coast
Suite 300 | Convene by Dan Kosta - 2022 Rosé of Pinot, Russian River Valley

You must be 21 and older to purchase a wristband(s). Bacchus Landing is a child and dog-friendly facility.
Purchase Tickets HERE.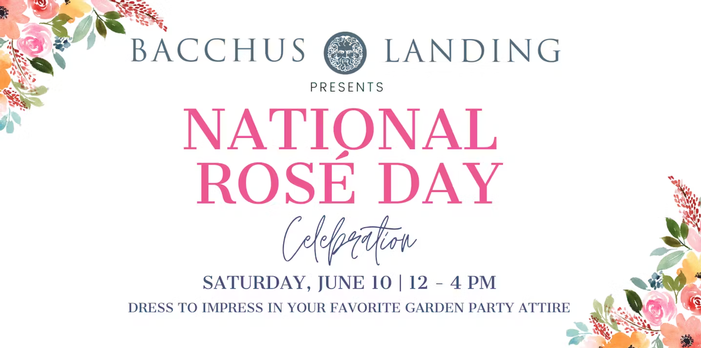 Healdsburg Jazz Festival
6:00 PM to 10:00 PM
Sun, Jun 18, 2023 - Sat, Jun 24, 2023
Venue:
Bacchus Landing | 14210 Bacchus Landing Way
-------------------------------
Bacchus Landing is excited to announce that we will be hosting four major concerts in our piazza!
Saturday, June 18 (Father's Day) - Samara Joy from 7pm-8:30pm. Doors open at 5:30
Thursday, June 22 - Bill Frisell Trio featuring Thomas Morgan & Rudy Royston // Camille Thurman with Darrell Green Quartet. 6:30-9pm
Friday, June 23 - Multiple Artists 6:30-9pm
Saturday, June 24 - Dianne Reeves 7-8:30pm. Doors open at 5:30pm.
See the full schedule HERE.
Celebrate the 25th Anniversary of the Healdsburg Jazz Festival with 9 days of concerts in Wine Country. We're honoring the Festival's past, present, and future by presenting today's hottest artists like NEA Jazz Master Dianne Reeves, 2023 Best New Artist and Best Jazz Vocal Album Grammy Award winner Samara Joy, vibraphonist Joel Ross, alto sax legend Charles McPherson, percussion maestro and Healdsburg Jazz artist-in-residence John Santos, New Orleans clarinetist Dr. Michael White, North Bay vocalist Stella Heath, New Orleans saxophone star NEA Jazz Master Donald Harrison, powerhouse tenor saxophonist Howard Wiley, and so many more.
SF Chronicle, "One of the best small jazz festivals in the country if not the world."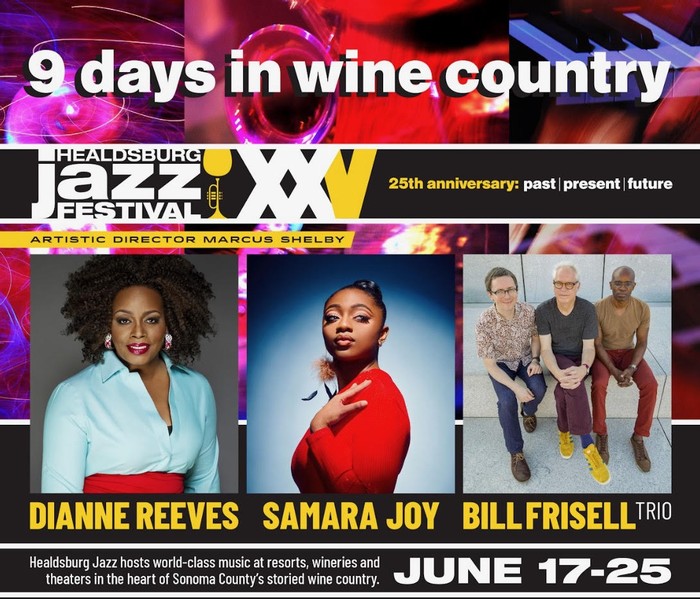 Vinyls & Vino Trivia Series | June 30th
5:00 PM to 7:30 PM
Fri, Jun 30, 2023
Venue:
14210 Bacchus Landing Way, Suite 101
-----------------------------------
Montagne Russe presents its third night of Vinyls & Vino Trivia Series. Join us at our tasting room at 5 pm to get settled with your team over some wine, and then trivia starts promptly at 5:30 pm. There will be three rounds, ten questions in each round. Teams of up to six people. A prize will be awarded to the winning team!
Theme for the night: ALL THINGS 70'S
Kevin will be your host for the evening, with Whitney as back up! Guaranteed to be a good time!

Vinyls will be spinning between each question.

Tickets are $20 each, which includes one glass of wine upon arrival. $10 for Club Members.
Wood-fired pizzas available for purchase from the Bacchus Landing Market until 6pm.
Purchase tickets HERE. (Club members RSVP to info@russewines.com or log into your account to access the $10 club pricing.)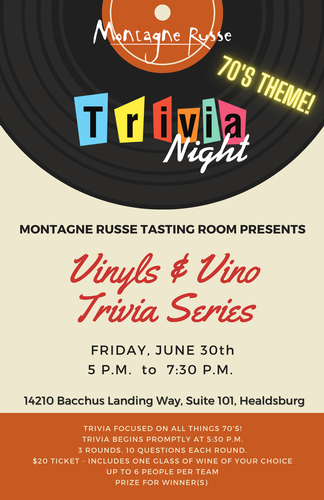 August 2023
Wind to Wine Festival
12:00 PM to 4:00 PM
Sat, Aug 5, 2023
Venue:
SOMO Village 1100 Valley House Drive Rohnert Park, CA 94928
-------------------------------
Montagne Russe will be pouring at the Wind to Wine Festival, an event dedicated to wines from the Petaluma Gap AVA.
On Saturday, August 5, the Petaluma Gap Winegrowers will be pouring their wines to celebrate the upcoming harvest and another year of award-winning releases. A wide array of wines will be poured, with Pinot Noir being featured, due to its prominence in the Petaluma Gap AVA and in advance of National Pinot Noir Day.
The festival will take place at SOMO Village in Rohnert Park, adjacent to the Sonoma State University campus. Previously owned by Agilent and used as a workplace and commissary for its employees, the venue was later relaunched as Sally Tomatoes. More than 25 wineries will be pouring their wines in the air-conditioned Plaza Room, with savory bites, cheese from Point Reyes Cheese Company, and sweets from Bert's Desserts. Winemakers will be sharing their winemaking tales in the "Story Room," and local favorite, Mark Taylor, will be playing Flamenco & Classical guitar outdoors in the towering Redwood Grove.
VIP ticket holders will be treated to barrel samples, library wines, and wines bottled in large formats beginning at 12 noon. General admission ticket holders will enter at 2 PM and everyone will be able to enjoy current-release wines throughout the event until it ends at 4 PM.
Purchase tickets HERE.
September 2023
Tiburon Wine Festival
1:00 PM to 4:00 PM
Sat, Sep 30, 2023
Venue:
Point Tiburon Plaza 1701 Tiburon Boulevard Tiburon, CA 94920
-----------------------
55 + WINERIES (Including Montagne Russe!). 10 RESTAURANTS. 1 EXTRAORDINARY EVENT.
We are excited to welcome you back to Tiburon this fall. There's a reason the Tiburon Wine Festival is one of the Bay Area's most popular wine events. Extraordinary Wine, Food & Live Music all on the bay!
The Wines
Featuring wines from both established and small production wineries, the Tiburon Wine Festival provides a rare opportunity to experience new wines and savor old favorites - from Napa, Sonoma and as far afield as Italy and Hungary.
The Food
Great local restaurants and food purveyors. Sam's Anchor Cafe, The Bungalow Kitchen by Michael Mina, The Caprice, Woodlands Market, Malibu Farm, Luna Blu, Salt & Pepper, Petite Left Bank and Servino Ristorante to name a few.
Purchase Tickets HERE.
October 2023
Fall Release Party
11:00 AM to 5:00 PM
Sun, Oct 8, 2023
Venue:
14210 Bacchus Landing Way, Suite 101
----------------------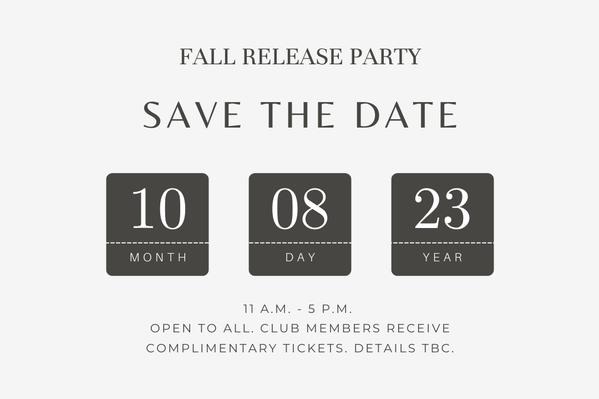 2023 Harvest Celebration
6:00 PM to 9:30 PM
Sat, Oct 21, 2023
Venue:
Bacchus Landing | 14210 Bacchus Landing Way
---------------------------
Owners & Founders Members - please mark your calendars for our Harvest Celebration. An intimate coursed dinner event paired with our best wines. Details TBC.